The driver of the Calvary Coach bus that crashed into an overpass on Soldiers Field Road in Boston in February has been criminally charged.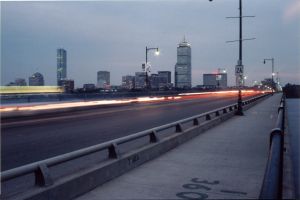 Samuel J. Jackson, 67, of Philadelphia was charged with operating negligently to endanger as well as failing to obey a sign and driving a bus on a Department of Conservation roadway. The bus he was driving was carrying a group of Philadelphia teenagers who had just toured Harvard University.
According to investigators, Jackson failed to heed warning signs prohibiting buses and large trucks from traveling down that stretch of highway, and did not slow the bus upon entering the tunnel, which was shorter than the bus's height. The crash caused serious damage to the bus's roof, and portions of its front and frame were significantly damaged. 39 passengers were injured during the accident.
While this accident happened back in February, it seems like we are reading about this horrific event as if it happened only a few days ago. There are now pending charges against the driver, which will be handled in a Massachusetts courtroom.

Aside from the driving charges, the bus driver and the bus company face potential injury claims. Though reports indicate that most of the injuries the passengers sustained were minor, one family has already filed suit for the severe injury their [minor] son suffered during the accident. Hopefully for the other injured passengers, Calvary Coach has ample insurance coverage to cover their injury claims. Often times in these types of cases, full resolution does not occur until years after the incident occurred.
If you have been involved in a bus accident and are not sure of your rights or what benefits you may be entitled to, it is generally in your best interest to contact an experienced Boston bus injury attorney. At Altman & Altman, LLP, we have been representing individuals involved in all types of accidents for over fifty years. Our teams of experienced lawyers are available to answer your questions and help you fully understand your rights. Our lawyers are available after-hours and on weekends. All initial consultations are free.

Original Article from: WCVB.com