Authorities in Middleborough have released new details in their search for the driver who struck and killed a local bicyclist last week.
Michael Dutra, 58, of Middleborough was the victim of the fatal hit-and-run accident, which occurred around 7 p.m. Friday evening. Authorities believe Dutra was either riding or walking his bicycle along Wood Street, where he resided.
Plymouth Country District Attorney Timothy Cruz, as well as Middleborough's Chief of Police Bruce Gates, said that investigators of the accident had started to piece the scene together, and have collected debris from what they believe to be a light-colored model year 2005-2009 Jeep Grand Cherokee. Authorities think that the vehicle is possibly missing the front marker lens, may have a broken right headlight lens, as well as a damaged right front bumper. Investigators need your help. Anyone with any information regarding the case is encouraged to contact the Middleborough Police Department at (508) 947-1212.
While bike riding is a popular mode of transportation, it is also extremely dangerous, especially for individuals who choose ride at night. Unlike passengers in motor vehicles, bicyclists have no physical protective barriers against outside elements like cars, trees, guardrails, fences, and other large vehicles, and are at the mercy of others traveling on the road.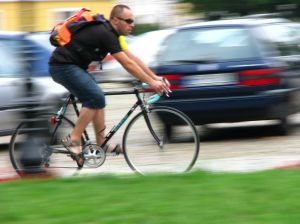 The U.S. Centers for Disease Control and Prevention estimates that more than 500,000 people are treated for serious bicycle-related injuries each year, and more than 700 individuals die each year. A majority of these injuries are head injuries attributed to not wearing a helmet. Though many people dismiss the idea of wearing a helmet because of atheistic reasons, or because they feel their short commute does not warrant wearing one, wearing a helmet could make all the difference, and could even save a life. In fact, the National Highway Traffic Safety Administration found that bicycle helmets are 85-88% effective in preventing severe head and brain injuries. Other types of injuries commonly sustained in bicycle accidents include concussions, spinal cord injuries, broken bones, lacerations, paralysis, and death.

The aftermath of a bicycle accident is overwhelming and can be devastating to a victim or family. Victims and their families often wonder who is responsible for any medical bills, therapy, lost wages, and any other costs associated with the accident, especially if the accident was a hit-and-run. Those involved in a bicycle accident are advised to immediately contact an experienced bicycle attorney.
At the law offices of Altman & Altman, LLP our seasoned Massachusetts Bicycle Accident Attorneys have handled bicycle accident cases for nearly fifty years. We understand that no two cases are the same, and we have decades of experience dealing with insurance companies and recovering damages for medical bills, lost wages, pain and suffering, and any other costs associated with a client's accident. We also recognize the emotional toll an accident can cause and we practice with the utmost sensitivity and professionalism, while aggressively advocating on our clients' behalf. If you or a loved one was the victim of a bicycle accident, do not hesitate to contact one of our attorneys. We are available around the clock to answer any questions you may have about your case, and all initial consultations are free and confidential.