A 17-year-old was cited after she struck and seriously injured a couple and their infant child in the South End on Sunday afternoon.
According to witnesses and investigators, the teenager hit the couple and child as they were crossing the street near Columbus Avenue and Dartmouth Street. The teen's car also hit a pole and the side of a brownstone at Lawrence and Dartmouth streets. The couple and their child were taken to Tufts Medical Center and Beth Israel Deaconess Medical Center for serious injuries. The child was not seriously injured and was released to family members. The father was admitted for a leg and head injury, and the mother suffered serious head and neck trauma.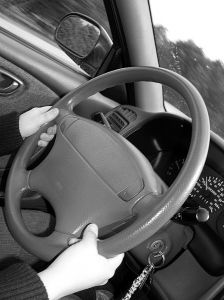 The driver was operating with a junior operator's license, and had been driving with another 17-year-old in the car; a violation of J.O.L passenger restrictions. According to Massachusetts Law, junior operators may not operate a motor vehicle within the first six months of obtaining his or her license with an individual under the age of 18 years, unless accompanied by a person who is at least 21 years old, has at least one year of driving experience, holds a valid driver's license from Massachusetts or another state, and is occupying the passenger seat. Violations of this restriction may result in the driver having his or her license suspended for 60-days and paying a $100 license reinstatement fee for the first offense. Subsequent offenses result in a longer suspension period, taking a Driver Attitudinal Retraining Course, as well as a reinstatement fee.
The teenager was most likely cited for the passenger violation, as well as operating to endanger, negligent operation, and reckless driving, which carries a license suspension of 180 days and a reinstatement fee of $500, for the first offense. The cause of the crash remains under investigation.
Continue reading