Thirty-four junior high school students were injured and taken to hospitals following a three vehicle crash involving a school bus yesterday.
The accident occurred at about 7:30 a.m. Tuesday morning along Route 9 in Newton when a Metco bus traveling toward Lexington rear-ended a car stopped at a stop light, causing that vehicle to hit another car.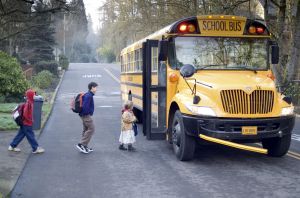 Eleven of the students on the bus suffered minor injuries and were taken to area hospitals, while the remaining 23 students were taken to hospitals only as a precaution.
The cause of the accident is still unknown and remains under investigation. According to State Police, no citations have yet been issued.

Each year, thousands of children are injured in school bus accidents. Having your child be involved in an accident is traumatic and is something that no parent should ever have to endure. Whether dropping off kids at the bus stop, having his or her child go on a field trip, or even sending kids off to summer camp, there are always concerns in the back of every parent's mind about who is driving his or her children, like has the bus driver had enough sleep? Has the bus driver been drinking? Should he or she be wearing glasses? Does the bus driver have a smart phone and will he or she text and drive? You can't stop putting your child on the school bus, but hopefully bus companies will make sure that their drivers are providing the safest environment for all children.


Recently we saw an awful crash in Cambridge involving high school students who were visiting Harvard University. The bus driver, who was unfamiliar with the area, had failed to yield warning signs and drove the bus into an overpass. See our blog about the accident here.
If you or your child has been involved in a bus accident, the first step is to get immediate medical attention, and then call an experienced car accident lawyer to understand your options about possibly filing a liability suit. At the office of Altman & Altman, we have nearly 50 years of experience in handling bus accident cases. We understand that being involved in any accident can be confusing and we will do whatever it takes to ensure you receive the compensation you are entitled to. Call us for a free initial consultation. Our attorneys are always available to answer any questions you may have about your case via telephone, in person, or through email.

Original Article taken from WCVB.com